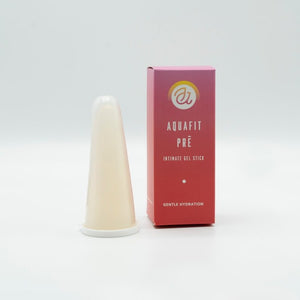 Aquafit PRÉ
Sale price Price 135.00 Regular price Unit price / per
Aquafit PRÉ Intimate Gel-Stick® with Gentle Hydration 

Aquafit PRÉ Intimate Gel Stick® uniquely combines pelvic floor muscle strength, vaginal tonus control with the delivery of hyaluronic acid, vitamin B3 and lactic acid to moisturise and replenish sensitive vaginal tissue, deep from within.
Improves vaginal elasticity, helps relax muscle spasms, alleviates pain during sex. Hydrates and relieves vaginal dryness. Restores healthy vaginal acidity (pH), soothes vaginal discomfort and irritation.
Aquafit PRÉ is a water-based Intimate Gel Stick®. All natural, feels natural, designed to match vaginal tissue osmolality, certified cosmetic (CPNP EU).
What size do I need? 

One-two fingers, S-M; 
(Vaginismus, Menopause, Recovery)
Three fingers, M-L;
 

(Postpartum)
Aquafit PRÉ, it's a gel, in a stick
•
Overcome the pain, fear, muscle spasm cycle with penetration. 
•
 S
trengthen pelvic floor muscles (Kegels), gain vaginal muscle tonus control
tissue elasticity, relieves symptoms of vaginal atrophy
•
Self lubricating, no leakage, adapts to vagina, pain free
•
Replenishes and relieves vaginal dryness, itching and burning
•
 Delivers h
yaluronic acid, bio-adhesive for long lasting hydration and vitamin B3 for anti-inflammatory properties, to deep vaginal tissue
•
 All natural, plant-based, hormone-free, allergen-free, paraben free, low osmolality
•
Supports healthy vaginal microbiome
•
Recommended by gynecologists and sexual health teams
For use up to 14 days from opening.
Get 15% off all monthly kits (2 pcs).
Explore sexual wellness 
s

elf-care
usage instructions
Ingredients:
Aqua, Glycerin, Niacinamide, Ceratonia Siliqua Gum, Gellan Gum, Sucrose, Phenoxyethanol, Sodium Chloride, Carrageenan, Potassium Chloride, Lactic acid, Sodium Benzoate, Potassium Sorbate, Dipotassium Phosphate, Ethylhexylglycerin, Sodium Hyaluronate, 1, 2-Hexanediol, Caprylyl Glycol.
Discount codes do not apply to Intimate Wellness Kits.